Welcome To Kanfo Technology India.
Kanfo Technology was a privately held software company established in 2005, now an IT division of Kaviish Global Group of companies.
Kanfo Technology is new generation ,global service company that understand business and aims to deliver. value to its customer through its software solutions and Services.
Our unique experience enables company to deliver solutions that build stronger and more profitable business.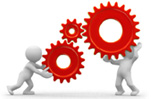 Solution
Logistic Management System
CRM (Customer Relationship Management)
Multi Level Marketing (MLM)
Customize Software Solution
Online Intranet Based Solutions
SMS Software

Services
Social IT profile Management
IT Consultancy Project Based
Database Management (Oracle, MS Sql ,MY Sql)
Management Information System
(MIS) Reporting Service
IT Audit
IT Skill Off sourcing and Training
Off source Multimedia quiz design
Online Intranet Based Solutions
Network Solution
Internet Marketing
Create Profiles on Social Networking websites
Manage your updates
Blog creation
Link submission
Link Exchanges
Directory submission
Business group submission
Business promotion activity
Social IT profile Management

Products
Kanfo Projects and Task Management System
Kanfo Food Portal
B To B and B To C Portals
Domain Registration
Windows /Linux web Hosting
Education Website
Result Management Software
Blogger